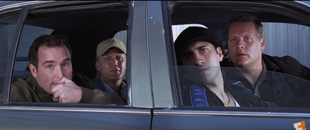 Police deputy Troy Schmidt was a police officer working under the unit of sergeant Sullivan in the Boston State Police Department. Schmidt is first seen after getting the mission to tail down captain Queenon from another department within the State Police, and to find out who is mole in the Costello mob is.
Tailing Queenan
Edit
After being ordered by Srg. Sullivan to tail down Queenan, Schmidt and the boys are led to the 344 Wash building. The cops are waiting for an informant to arrive, but instead a van of Costello soldiers come by, entering the bulding and later drops Queenan of from the rooftops, killing him.
The cops are unsure of what happened, and a frustrated Schmidt opens fire at the goons after ebing told not to by Sullivan. A shootout emerges, and Schmidt gets a clean shot off on goon
Delahunt
, but gets shot in the shoulder by goon
Fitzy
. Schmidt is not seen again, and most likely hospitalized for his gunshot wound.